When will I get it?
When should I order?
Colette's Popcorn ships using using UPS Ground primarily. This map should give you some idea, based on where the popcorn is going, how long it should take. UPS, like all shippers right now, doesn't "guarantee" the transit days listed. For cross-country orders, we may use USPS, but the post office has had some delivery issues.
​
For example, if we ship on a Monday to your home in Ohio or Pennsylvania, your order should arrive by the end of the day Wednesday. If your shipment is going to one of the places on the "borders" between shipping zones, you should probably count on the longer shipping period.
The shippers do include disclaimers for severe weather, but Colette's Popcorn has been happy with deliveries so far.
If you need special shipping or you can ship to a business address, please call us at 843.273.4202.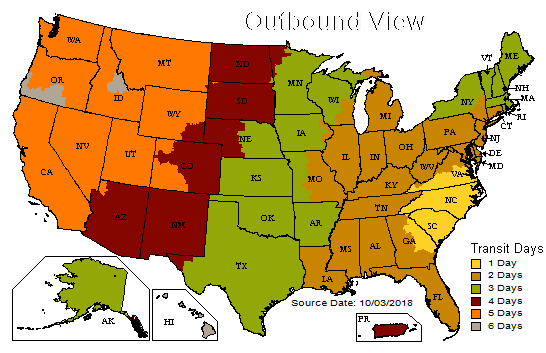 Map from ups.com site, using our North Myrtle Beach mailing address.